Scala School of Wine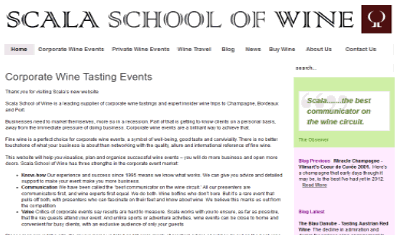 Scala School of Wine is a leading supplier of corporate and private wine tastings and expert insider wine trips to Champagne, Bordeaux and Port. Businesses need to market themselves, more so in a recession. Part of that is getting to know clients on a personal basis, away from the immediate pressure of doing business. Corporate wine events are a brilliant way to achieve that.
Web Development Consultancy's role - when ScalaWine were let down by another developer we stepped in, providing all the necessary help to get the website away from an obstructive developer, and to get the site up and running on a stable platform. We also provided expert consultancy to help the client bring the website to fruition - solving a number of technical difficulties experienced by the website.